8 Week silversmithing course - £350
What's included - Everything is provided for the projects listed. Extra metal can be purchased on the day if you would like to make your projects larger than advised.
Difficulty level - Beginner
Class duration - 2.5 hours approx, classes may run up to an hour longer.
Time - 6.30pm every Tuesday starting on the 10th of September for 8 weeks
Location - Noctua studio, 34 Regent st, L3 7BN

If you've always thought about learning how to make your own silver jewellery then this course is perfect for you! Each week you will experiment with different silversmithing techniques under the expert and patient guidance of your friendly tutors. This course aims to provide you with all the necessary skills including soldering, sawing out, shaping, texturing, polishing and finishing in order to make your very own pieces of jewellery.
The course includes all the silver you will need each week and full use of all the necessary tools and equipment in the workshop. We will also provide you with course notes to take home after each session.
Check out the course itinerary to see what you've got to look forward to week by week!
Week 1 - Make a simple silver ring
During your first session with us we will guide you into making your own perfect silver ring from start to finish! Even if you have taken our stacking ring workshop before you'll find this lesson to be a very informative and detailed experience learning all about the traditional methods, maths and science which goes into making your very own ring.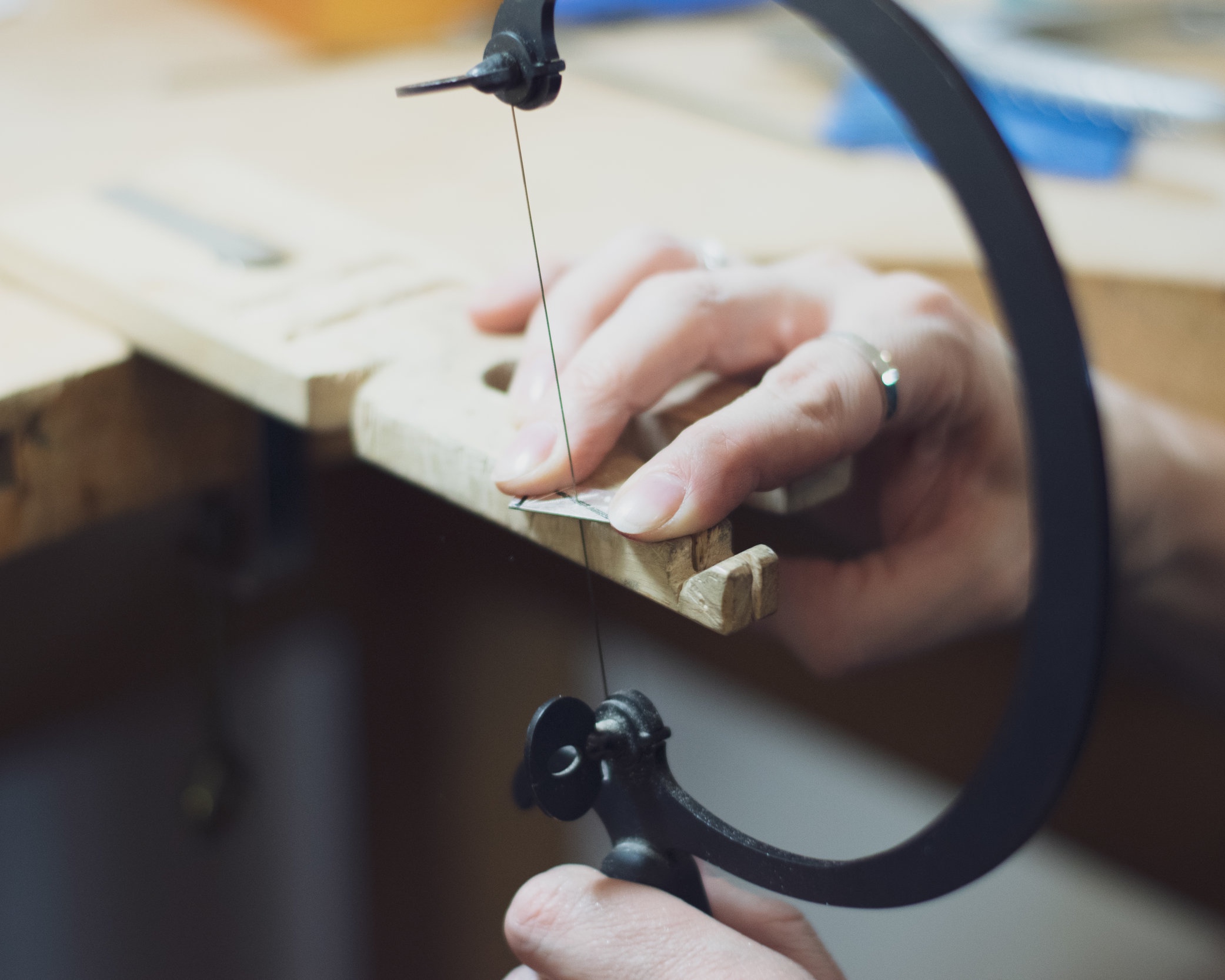 Week 2 - Learn to use the jewellers saw
During week 2 we'll get started on practicing sawing out using the piercing saw. You will learn the ins and out of using a saw frame by trying out different models to find the one that fits you best. You will also practice cutting out different lines and shapes and start to feel more comfortable before sawing out your components for the following week.
Week 3 - Soldering and finishes

During this session we will be trying out a variety of textures and finishes using different workshop tools including the rolling mill, hammers and patinas such as chemical baths and even flame-painting! Once you're happy with the textures you have chosen you will apply them to your sawn-out pieces and make your jewellery.
Week 4 - Making embellishments
In week 4 you will be experimenting with melting silver and recycling your scrap to make embellishments and charms, Your tutors will teach you the science behind how silver behaves and all about cleaning the metal. The recycled silver can then be made into a piece of jewellery. You can experiment with all our metal stamps and dies to add patterns or even lettering to your final piece.
This week you will begin by learning how to make jump rings of various sizes. This is a really instrumental skill to have as a jeweller as they can enhance your work in so many ways. During this session you will also get to grips with connecting the jump rings to make beautiful patterns from chain, and in turn exploring pattern and size to make sections of chain into your very own pieces of jewellery.
Week 6 - Cufflinks or earrings
During week 6 you will start by focussing on working with jewellery 'findings' such as ear wires, rings and clasps. Following this you will use these new skills to design and make a lovely pair of cufflinks or earrings.
Over the final two weeks of the course you will use the techniques learned over the previous sessions to design and make a beautiful piece of jewellery. You will be free to experiment with all of your newly acquired abilities, along with the help and guidance from your tutors. We hope that when you have completed this course you feel confident to carry on with your jewellery making from the comfort of your own home!